St. Mark's Begins in "Repurposed"
Congregational Church Building
Note the window in the back of the building as it is moved. Those windows can still be seen in the back of the church today. The original building commences with the doors into the sanctuary. The front part of the building was added on later.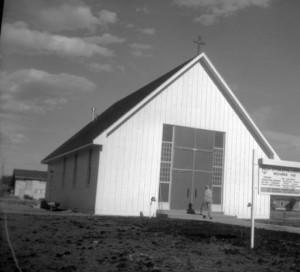 The Denver Public Library has preserved this photo of the original front of the church, adding the following description: "View of Saint Mark's Episcopal Church in Craig, Colorado; shows a single story structure with a steep, front gable, vertical board siding on the front facade, and horizontal board on the side facade; double doors at the entry, surrounded by decorative lights, and a cross at the roof ridge; reader board in front of the building reads: 'Episcopal Church Welcomes You, Sunday the Eucharist, 9:00 A. M. the Eucharist and holy communion, 9:00 A. M. church school, Wednesday 7:00 A. M., Friday 9:00 A. M., evening prayer 5:00 P. M. Tuesday-Friday. St. Mark's always open, the Reverend H. A. Lycett, Vicar.'" This undated photo was taken around 1960, shortly after the building was moved from Victory Way to Green Street.